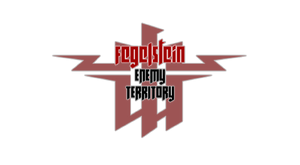 FegelStein: Enemy Territory is a Downfall parody-themed mod for Wolfenstein: Enemy Territory, a free mulitplayer FPS which can be downloaded here. Originally a simple video and sequel to agetube83's FegelStein 3D parody, it is now defictionalized and YOU can play it yourself!
There's nothing special with this mod, other than changing the Allied and Axis models into Fegelein and Hitler respectively, changing their radio chatter sounds (but NOT announcers), changing weapon sounds with those from RtCW, editing vehicle textures, not to mention adding Nazi/SS symbols to the game. In other words, ILLEGAL TO DOWNLOAD IN GERMANY. Sorry.
Omni-Bot support is guaranteed.
Lame excuse Story
Fegelein and Hitler stole the blueprints for Speer's cloning machine in order to build one for themselves. Thousands, if not, millions of Fegelein and Hitler clones are deployed throughout the world, waging war against each other. It's an all-or-nothing fight to the death, and only the victor will prevail and survive.
How to install
This mod requires version 2.60 and more to run. Just place the folder at your Wolf ET directory (DO NOT rename it). Then, start the game, check the mods section of the menu. Click "FegelStein" and there you go.
How to uninstall
Just delete the folder. Remember not to delete the .zip/.rar file containing the folder in case you want to reinstall it.
Screenshots
This section is under construction.
External links