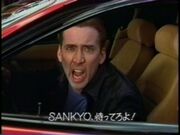 Not to be confused with those two Japanese medicine-producing companies, nor a gold flute-making company.
SANKYO (full name Kabushiki Kaisha Sankyo, Co., Ltd.) is a pachinko manufacturer. They made 5 commercials, all of them starring Nic Cage. All 5 can be watched in this video. All of them can also be downloaded here.
Don't read unless you want to get spoiled. Though the commercials have no real story. So, you got Cage serenading about blue jeans, red haired girls, sweet peanut butter, slow burning candles, a cup of tea, a good book, a dance in the rain and finally pachinko.
Then you got Cage signing autographs for twins-- no wait, triplets. This drives Cage nuts (yelling "FEVER!") and urges him to go to Japan, to play pachinko, more or less!
And then again Cage promotes his new movie at a press conference. He mentions things he loves about Japan until a reporter's pearl earing falls off, which reminds him of a pachinko ball. Cage goes batshit insane. Said ball rolls down to his foot. He picks it up, and flees the press conference to play pachinko.
And then AGAIN, Cage tells you stories of misfortune. A cab driver can't get customers, a fisherman can't catch any fish and a poor girl is lonely because no one loves her. But he doesn't care since he's having good luck at pachinko. To quote the man himself: "sorry!"
Finally Cage is a cowboy who meets with pachinko ball-headed robot aliens. He doesn't understand what's going on, but dances with them anyway. He grunts "HOEDOWN!" before headbutting one of the robots. He then says "pachinko". End of story.
External links
Edit
Looking for external links, huh? I already provided them above, dumbass.